Ohio Natural Areas &
Preserves Association
NEWS – January 5, 2023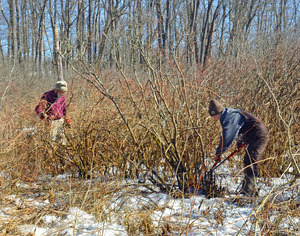 Happy New Year! We are back in the field January 19
Thursday, January 19 – woody species control atCedar Bog State Nature Preserve (Champaign County), 10:30 am.
Thursday, January 26 – woody species control at Richfield Heritage Preserve (Summit County), 10:30 am.
Thursday, February 2 –  clean up in the plantation area at Crane Hollow State Nature Preserve (Hocking County), 10:30 am.
Thursday, February 9 –  woody species removal at Bonnett Pond Bog State Nature Preserve, if frozen (if the area is not frozen, the alternate site is Jackson Bog) (Holmes County), 10:30 am.
You can find out more about these projects by visiting ONAPA.org/VOLUNTEER.  Please REGISTER so we can inform you of any changes due to weather.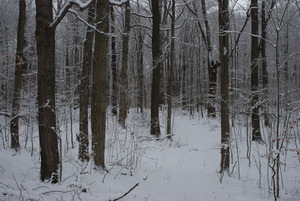 ONAPA Winter Newsletter is on-line now

The printed copy should be in the mail soon, but our Winter 2022-23 issue is also available on-line now.

Volunteer appreciation luncheon and plant ID workshop Janaury 25 in central Ohio at Shale Hollow ParkONAPA is holding a volunteer appreciation luncheon and workshop on winter woody plant ID in late January. ONAPA volunteer Bob Klips, a retired professor from OSU Marion, will teach a two-to-three-hour session on identification of woody plants in the winter. We have been struggling in the field with identification of woodies, those to cut and those to leave, so this will be very helpful.

Shale Hollow Park, part of the Preservation Parks of Delaware, is between Powell and Delaware (just off  U.S. Route 23).  Please RSVP by using the 2023 JANUARY-MARCH STEWARDSHIP PROJECT SIGN-UP so we know how many lunches to order. Plan to join us. We are hoping we get a good mix of ONAPA stewardship volunteers from all over the state.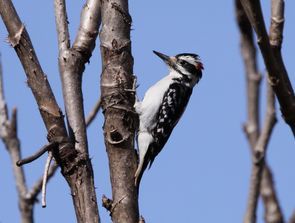 Birdfeeder birdwatching tips in this month's Field Notes
Learning to identify specific traits of different bird species is easier when the birds are right outside your window. John Watts gives us a delightful example of woodpeckders in his monthly OHIO FIELD NOTES.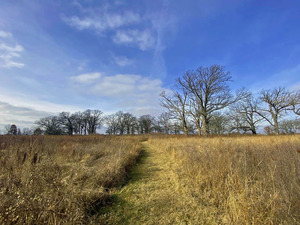 December projects carry on despite challenging weather
Despite challenging weather and busy holiday schedules, we were able to conduct three ONAPA stewardship projects in December.  We had to cancel one project at Beck Fen with The Nature Conservancy due to rain forecast.  We worked with Cleveland Museum of Natural History staff and volunteers at Geneva Swamp on December 1 with 11 people to remove glossy buckthorn at a wet woods site with rare plants.  On December 6, seven ONAPA volunteers worked with five DNAP staff at Crabill Fen to remove woody species in the fen meadow.  On December 13, ten ONAPA volunteers and one DNAP staff removed woody species in the understory at Daughmer Savanna.  All were productive days to deal with invasive woody plants!